Answers to the Life Saver Quiz!
Finally – The answers for the Beach Lifesaver Quiz!

The 3 pieces of rescue equipment are circled in the picture below!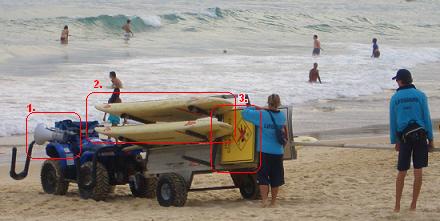 THE ANSWERS
1. Something used to help make your voice louder:Loud hailer
2. Something with a picture on it: 'Danger! No swimming' sign
3. Something used to paddle in the ocean: Surf ski
Did you get the answers correct?