Making sushi rolls #1 – Cutting the salmon
Today, let's cut the salmon to make sushi rolls!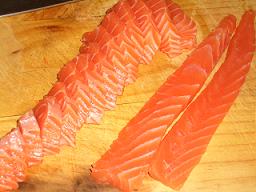 First, cut the salmon into three long strips.
Then cut the strips into thin slices.
There you are!
Pieces of salmon ready to use for our sushi rolls!
Question: What kind of food do you like to cook?